THEDIGITALHALO
Recording Studio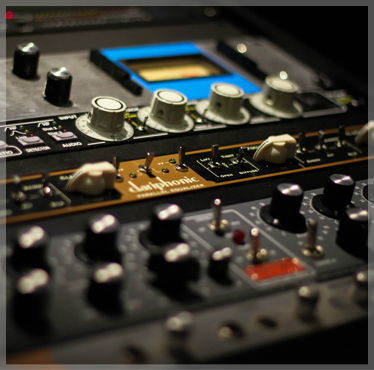 Info
THEDIGITALHALO is the private music production facility of producer/engineer Shawn Guess.

THEDIGITALHALO promotes creativity with its quiet, comfortable atmosphere and has only the highest quality gear to bring that creativity to life.

No matter the style, great and inspired music deserves to be heard. . .
and it deserves the quality and attention to detail necessary to effectively reach its audience.

Gear
System
Unlimited Production Channels with
64 Simultaneous I/O Channels of
Lynx Aurora Conversion with an
Apogee Big Ben Master Clock
Front End
Neve 1073 (Brent Averill) 2ch
API 3124 4ch
Great River MP2NV 2ch
A-Designs REDDI
Universal Audio 4110 4ch
Avid DigiPRE 8ch
ADL600 2ch
Dizengoff D4 - EMI REDD47 2ch
Dizengoff DA2 - RCA BA2C 2ch
Empirical Labs Distressor EL8X
1176 Rev. A "Blue Stripe"
Retro Instruments STA-Level
Retro Instruments 2A3 (Pultec EQ)
Kush Audio Clariphonic EQ
Stam Audio SA-2A (1968 Teletronix LA-2A)
dbx 160A
Creation Audio MW1 Michael Wagner Studio Tool
ACME WB-3 Motown DI

Monitors
Quested v3110
ProAc 100 Powered by a Bryston 4B SST2 Pro
JBL LSR6328
Auratone 5c
JBL 12" Sub
JBL 10" Sub
Klipsch 5.1
Synths/Sound Generators
Roland Juno 60
Access Virus TI2 Polar
Sequential Circuits Pro One
Nord Lead 2X
Korg MS-20
Novation Bass Station II
Vermona DRM1 MK3
Jomox 888
Jomox MBase 11
Jomox MBrane 11
Jomox M-Resonator
OTO Biscuit

Mics
Neumann U87
Manley Reference
AKG c414 Matched Stereo Pair
FLEA 47
Blue Kiwi
AEA R92
Royer R121
Audio Technica 4033
Audio Technica 4050 Matched Stereo Pair
Audio Technica 4047
Heil PR48
Heil PR30
Beyerdynamic M160
Beyerdynamic M201TG
Beyerdynamic M88TG
Sennheiser MD421
Sennheiser e602 II
Sennheiser e906
Sennheiser e901
Shure SM7
Shure SM57 (x5)
Shure Beta 52
Electro-Voice RE20
Electro-Voice 635A/B
CAD M179 (x3)
Audix i5
Audix D1 (x2)
Audix D2 (x5)
Audix D4 (x2)
Audix D6
Audix SCX-1 Cardiod Matched Stereo Pair
Audix SCX-1 Hypercardiod
Oktava MK-012 Matched Stereo Pair

Guitars/Basses
Fender Custom Shop 61' John Cruz Stratocaster
Fender American Deluxe Stratocaster (1982)
Fender American Standard Stratocaster
Fender American Standard Telecaster
Gibson Les Paul Traditional (2012)
Gibson Les Paul Studio (1992)
Takamine Acoustic (1979)
Taylor 310ce Acoustic (2001)
Guild Classical (1964)
Ibanez RG2228A 8-string
Ibanez RG655 with Tone Zone/Air Norton
Ibanez Jem 7V
Ibanez Universe UV777 7-String
Ibanez RG1527 7-String with Bareknuckle Juggernauts
Ibanez RG752 7-String with Ionizer 7s
Danelectro '59 MOD
Epiphone Les Paul with EMG 81/85
Washburn EVO
Ibanez SRX505 5-String Bass
Fender American Precision Bass
Fender American Jazz Bass
Music Man Stingray 4-String (Vintage Electronics)
Music Man Stingray 5-String (Modern Electronics)
Dingwall NG-2 5-String Fanned Fret

Amplifiers
Friedman BE100
Dr. Z Z-Wreck
Two-Rock Coral 50
Diezel Hagen
PRS Archon
VHT/Fryette Sig:X
Marshall JCM2000 DSL100
Marshall JCM2000 DSL50
Mesa Dual Rectifier
Peavey 6505+
Supro 1624T
Fender '68 Custom Deluxe Reverb
Fender Blues Deluxe
Vox AC15 Handwired
Vox AC100 Classic Plus
Carvin Legacy
Ceriatone SSS (Dumble Steel String Singer)
Ceriatone Overtone HRM (Dumble Overdrive Special HRM)
Ceriatone Expression (Trainwreck Express)
Fractal Audio Axe-Fx II XL
Kemper Profiling Amp
Gallien-Krueger RB1001

All amps are regularly retubed and biased in house to maintain top performance and tone.
Cabinets
Dr. Z Z-Wreck 2x12
Mesa Standard 4x12 with Celestion Vintage 30s
Mesa Traditional 4x12 with Celestion Vintage 30s
Marshall 4x12 with Celestion Greenbacks (Custom)
Marshall 4x12 with Celestion GT75s
Legacy 2x12 with Celestion Vintage 30s (Custom)
Legacy 4x12 with Celestion Vintage 30s (Custom)
Avatar 1x12 with Electro-Voice EV12L
Avatar 2x12 with Celestion Heritage G12-65s
Gallien-Krueger RBH Series 4x10
Gallien-Krueger RBH Series 1x15

Drums
Pearl Reference Kit (Thick Shells, Die Cast Hoops):
- 22x20 Kick
- 6x6(custom) Tom
- 8x7 Tom
- 8x8 Tom
- 10x9 Tom
- 12x10 Tom
- 14x12 Tom
- 16x16 Tom
- 18x16 Tom
Pearl Reference PURE Kit (Thin Shells, Flanged Hoops):
- 22x18 Kick
- 10x8 Tom
- 12x9 Tom
- 16x16 Tom
Snares:
- Ocheltree 6.5x14 Carbon Steel
- Ludwig 6.5x14 Supra-Phonic
- Pearl 6.5x14 Maple Free Floating
- Pearl 6.5x14 Brass Free Floating
- Pearl 6.5x14 Aluminum Free Floating
- Pearl 3.5x14 Brass Free Floating
- Pearl 5.5x14 Masters 6-Ply Maple
- Pearl 6.5x14 Masters 6-Ply Maple
- Pearl 6.5x14 Reference 20-Ply Maple/Birch
- Pearl 6.5x14 Sensitone Nickel Plated Brass
Cymbals:
Paiste Signature Series
- 8" Splash
- 10" Splash
- 12" Splash
- 13" Heavy Hi-Hats
- 14" Heavy Hi-Hats
- 14" Dry Crisp Hi-Hats
- 14" Medium Hi-Hats
- 16" Fast Crash
- 18" Fast Crash
- 21" Dry Heavy Ride
Paiste Twenty Series
- 20" Full Crash
Paiste 2002 Series:
- 5.5" Cup Chime
- 6.5" Cup Chime
- 7.5" Cup Chime
- 4" Accent
- 6" Accent
- 8" Accent
- Large Bell Chime
Zildjian A Custom
- 10" Splash
- 13" Hi-Hats
- 14" Hi-Hats
- 16" Crash
- 18" Crash
- 18" China
- 20" Medium Ride
Zildjian K
- 20" Ride
Wuhan
- 16" China
- 18" China
- 20" China
- 12" Crash
- 14" Crash
- 16" Crash

Pearl Demon Drive Double Kick Pedals (Two Sets)

Roland Electronic Kit
Alesis Octapad
Wula Djembe - One-Piece Hand Carved with Goat Skin
Tambourine (Brass)
Tambourine (Steel)
Egg Shakers
Sleigh Bells

Effects
JHS Panther Cub Analog Delay
JHS Morning Glory
Fulltone OCD
Way Huge Aqua Puss Analog Delay
Free The Tone MS-2V Matt Schofield Overdrive
Keeley Katana FET Boost
ARC Effects Klone V2
Hermida Audio Zendrive
Analogman Prince Of Tone
Wampler Paisley Drive
ProTone Bulb Overdrive Deluxe
Earthbound Audio Beast
Earthquaker Devices Bit Commander
Earthquaker Devices Palisades
Prescription Electronics Depth Charge
Red Witch Fuzz God II
Hexe Bitcrusher III
WMD Geiger Counter
Malekko B:Assmaster
Iron Ether Frantabit
Sola Sound Custom Tonebender Fuzz
Barge Concepts Line Mixer x3
Road Rage Leveler x3
Road Rage Loop Switcher
Electro-Harmonix POG
Digitech Whammy
Crybaby Wah
Morley Bad Horsie 2 Wah
Empress ParaEQ
Darkglass Elecronics
- Microtubes B7K Ultra
- Microtubes Vintage Ultra
- Duality Dual Fuzz Engine
Barber Electronics
- Burn Unit
- Small Fry
- Direct Drive
- Half Gainer
- Gain Changer
Devi Ever
- Improbability Drive
- Bit Mangler (Bit + Vintage Fuzz Master)
- Legend of Fuzz
- Hyperion 2
- Beautiful Disaster
- Rocket (Soda Meiser + Vintage Fuzz Master Plus)
- Ænima
- Torn's Peaker
- War Horse (Soda Meiser Plus)
- Little Shit
- Ruiner
- Soda Might
ZVEX
- Machine
- Fuzz Factory
- Distortron
Death By Audio
- Fuzz War
- Supersonic Fuzz Gun
- Soundwave Breakdown
- Harmonic Transformer
Maxon
- AF9 AutoFilter
- OD9 Overdrive (Tubescreamer Circuit)
- CP9Pro+ Compressor Limiter
- OD820 (High Voltage Tubescreamer Circuit)
ProCo
- Rat
- Turbo Rat
SansAmp
- VTBass
- RBI Rack
Ibanez
- Jemini Distortion
- FZ7 Fuzz
Boss
- CE5 Chorus Ensemble
- CEB3 Bass Chorus
- ODB3 Bass Overdrive
- DS1 Distortion
- SD1 Distortion
- CS3 Compressor (Analog)
- CS3 Compressor (Digital)
- DD7 Delay
- DD3 Delay
- BF2 Flanger (Analog)
- GE7 EQ

Subscribe
Click Below to Subscribe for Notification of Exclusive Offers, Discounts, and News
CLICK HERE to Subscribe